Life of the Mind Interrupted: Essays on Mental Health and Disability in Higher Education (Paperback)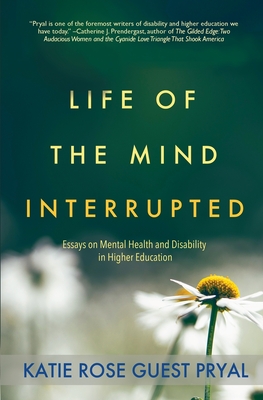 $17.99

Usually Ships in 1-5 Days
Description
---
Academia isn't an easy place to be if your brain isn't quite right.
Colleagues carelessly call each other "schizo" and "bipolar." Another colleague is fired--easy enough to do these days, when most college teachers no longer have tenure--for "instability." In these ways and many more, psychiatrically disabled people working in higher education are reminded every day that their privilege, their very livelihoods, can be stripped away by the groundless suspicions of others. Their lives can be, in an instant, interrupted.
The essays in this book cover topics such as disclosure of disabilities, accommodations and accessibility, how to be a good abled friend to a disabled person, the trigger warnings debate, and more. Written for a popular audience, for those with disabilities and for those who want to learn more about living a disabled life, Life of the Mind Interrupted aims to make higher education, and the rest of our society, more humane.
"Katie Rose Guest Pryal is one of the foremost writers of disability and higher education we have today." --Catherine J. Prendergast, Ph.D., Professor of Disability Studies