Wicked Game (Robert Finlay #1) (Paperback)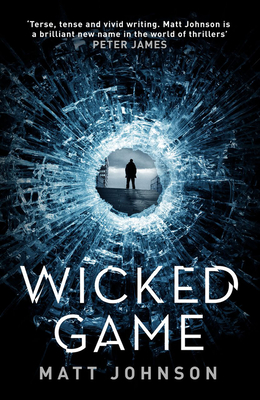 $14.95
Email or call for price
Other Books in Series
This is book number 1 in the Robert Finlay series.
Description
---
Royalty Protection Team officer Robert Finlay is looking forward to a quieter life, when two police officers are killed and their links to his own past becomes clear … putting everyone's lives in danger. A startlingly authentic debut … first in a page-turning, searing new series.

**NUMBER ONE BESTSELLER**
**Shortlisted for the CWA John Creasey New Blood Dagger**
**LoveReading Debut of the Month**

'Terse, tense and vivid writing. Matt Johnson is a brilliant new name in the world of thrillers. And he's going to be a big name' Peter James

'From the first page to the last, an authentic, magnetic and completely absorbing read' Sir Ranulph Fiennes

____________________

2001. Age is catching up with Robert Finlay, a police officer on the Royalty Protection team based in London. He's looking forward to returning to uniform policing and a less stressful life with his new family. But fate has other plans. Finlay's deeply traumatic, carefully concealed past is about to return to haunt him.

A policeman is killed by a bomb blast, and a second is gunned down in his own driveway. Both of the murdered men were former Army colleagues from Finlay's own SAS regiment, and in a series of explosive events, it becomes clear that he is not the ordinary man that his colleagues, friends and new family think he is.

And so begins a game of cat and mouse – a wicked game, in which Finlay is the target, forced to test his long-buried skills in a fight against a determined and unidentified enemy.

Wicked Game is a taut, action-packed, emotive thriller about a man who might be your neighbour, a man who is forced to confront his past in order to face a threat that may wipe out his future, a man who is willing to do anything to protect the people he loves.

But is it too late?

____________________

'Utterly compelling and dripping with authenticity. This summer's must-read thriller' J S Law

'Out of terrible personal circumstances, Matt Johnson has written a barnstormer of a thriller. Nothing is clear-cut in a gripping labyrinthine plot, which – despite thrills and spills aplenty – never falls short of believable' David Young

'Wicked Game has the authenticity I look for in a thriller. While the plot kept me turning pages, the characters made me care. Matt writes like a man who has lived it' Kevin Maurer

'Johnson litters his tale with the plotting equivalent of incendiaries: cops we don't quite trust, a career that came abruptly to an end, a secret needing to be kept … Gripping stuff' New Welsh Review
About the Author
---
Matt Johnson served as a soldier and Metropolitan Police officer for twenty-five years. Blown off his feet at the London Baltic Exchange bombing in 1993, and one of the first police officers on the scene of the 1982 Regent's Park bombing, Matt was also at the Libyan People's Bureau shooting in 1984 where he escorted his mortally wounded friend and colleague, Yvonne Fletcher, to hospital. Hidden wounds took their toll. In 1999, Matt was discharged from the police with Post-Traumatic Stress Disorder. While undergoing treatment, he was encouraged by his counsellor to write about his career and his experience of murders, shootings and terrorism. One evening, Matt sat at his computer and started to weave these notes into a work of fiction that he described as having a tremendously cathartic effect on his own condition. His bestselling thriller, Wicked Game, which was shortlisted for the CWA John Creasey (New Blood) Dagger, was the result. Deadly Game and End Game, the final books in the Robert Finlay trilogy, soon followed suit, and once again draw on Matt's experiences and drip with the same raw authenticity of their predecessor.
Praise For…
---
"Terse, tense and vivid writing.  Matt Johnson is a brilliant new name in the world of thrillers. And he's going to be a big name."  —Peter James, author, Dead Like You