The Last and the First (Pushkin Collection) (Paperback)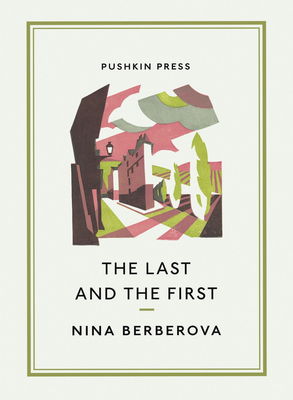 $18.00

Usually Ships in 1-5 Days
Staff Reviews
---
The first novel by the undisputed Queen of the Russian emigre writers in France. Superb.
— Brad
Description
---
The first English translation of celebrated Russian writer Nina Berberova's debut novel: an intense story of family conflict and the struggle over the future of émigré life

On a crisp September morning, trouble comes to the Gorbatovs' farm. Having fled the ruins of the Russian Revolution, they have endured crushing labour to set up a small farm in Provence. For young Ilya Stepanovich, this is to be the future of Russian life in France; for some of his Paris-dwelling countrymen, it is a betrayal of roots, culture and the path back to the motherland.

Now, with the arrival of a letter from the capital and a figure from the family's past, their fragile stability is threatened by a plot to lure Ilya's step-brother Vasya back to Russia. In prose of masterful poise and restraint, Nina Berberova dramatises the passionate internal struggles of a generation of Russian émigrés. Translated into English for the first time by the acclaimed Marian Schwartz, The Last and the First marks a unique contribution to Russian literature.
About the Author
---
Nina Berberova (1901-1993) was a Russian-born writer, academic, editor and translator. Raised in St Petersburg, she left Russia in 1922 and lived in Germany, Czechoslovakia and Italy before settling in Paris. There she published widely in the émigré press and wrote the stories and novels for which she is now known. Berberova emigrated to the United States in 1950 and eventually took up academic posts at Yale and later Princeton. In France she was honoured as a chevalier of l'Ordre des Arts et des Lettres.

Marian Schwartz is a prize-winning translator of Russian fiction, history, biography, criticism, and fine art. She is the principal English translator of the works of Nina Berberova and translated the New York Times bestseller The Last Tsar, by Edvard Radzinsky, as well as classics by Mikhail Bulgakov, Ivan Goncharov, Yuri Olesha, and Mikhail Lermontov. She is the recipient of two National Endowment for the Arts translation fellowships and is a past president of the American Literary Translators Association.
Praise For…
---
"[Berberova's] psychological portraits, dialogue, and prose are intensely elegant, even luminous. She seemed to have an otherworldly sense of what to say outright and what to leave implicit in her work." -- Kirkus Reviews

"[A] unique, harmonious, and brilliant book. Her language is uncommonly strong and pure; her images are magnificent for their solid and precise power... this is literature of the highest quality, the work of a genuine writer." -- Vladimir Nabokov

"Haunting... as graceful and subtle as Chekhov." -- Anne Tyler, New Republic

"Like Turgenev and Chekhov, of whom she is the rightful heir, Berberova... is uncannily shrewd about romance, about its bright promise, without making her characters' real satisfaction seem trite." -- New York Review of Books

"...an elegant tale of emigration, patriotism and destitution'... 'With echoes of Tolstoy and  and Chekhov, the novel is at once soberly realistic and richly symbolic." --Bryan Karetnyk, The Financial Times Life & Arts