Swamp Thing: The New 52 Omnibus (Hardcover)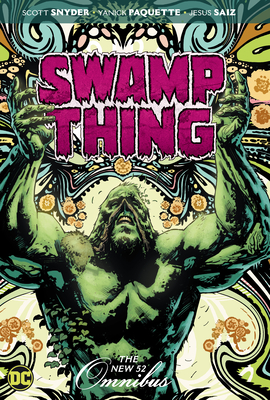 $125.00

Usually Ships in 1-5 Days
Description
---
THE SAGA OF THE SWAMP THING LIVES ON!

Dr. Alec Holland was a brilliant scientist who was developing a bio-restorative formula that would rejuvenate plant life. When he died, he was reborn as the Swamp Thing, the avatar of the Green.

As champion and protector of all plants on the planet, Swamp Thing has access to untold power. But such power also attracts danger.

In this daring new reinterpretation, Swamp Thing is put to the ultimate test when he faces several challenges that push the limits of his abilities. There's the Rot, the kingdom of death and decay that is hell-bent on destroying all life on Earth. Anton Arcane, his archnemesis, has also returned from the grave yet again. When another contender for the role of avatar of the Green steps forth, the creature who was once Alec Holland is forced to defend the mantle that he has grudgingly learned to accept. And just when you thought that the Green had its hands full with the Red and the Rot, yet another kingdom, the Machines, declares war.

Take a journey into the deepest depths of the bayou in Swamp Thing: The New 52 Omnibus. This comprehensive volume contains every Swamp Thing issue from the New 52 era written and illustrated by SCOTT SNYDER (Dark Nights: Death Metal), JEFF LEMIRE (Animal Man), CHARLES SOULE (Red Lanterns), YANICK PAQUETTE (Batman Incorporated), JESUS SAIZ (Birds of Prey), and more. Collects Swamp Thing #0-40, 23.1; Swamp Thing Annual #1-3; Swamp Thing: Futures End #1; Animal Man #12, 17; and Aquaman #31.

About the Author
---
Scott Snyder is a #1 New York Times bestselling writer and one of the most critically acclaimed scribes in all of comics. His works include All-Star Batman, Batman, Batman Eternal, Superman Unchained, American Vampire, and Swamp Thing. He has also been published in Zoetrope, Tin House, One Story, Epoch, Small Spiral Notebook, and other journals, and has a short-story collection, Voodoo Heart, which was published by Dial Press. He teaches at Columbia University and Sarah Lawrence University and lives in New York with his wife, Jeanie, and his son, Jack Presley.