The Sandman: The Deluxe Edition Book Two (Hardcover)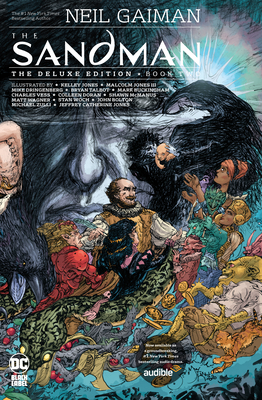 $49.99

Usually Ships in 1-5 Days
Description
---
One of the most popular and critically acclaimed graphic novels of all time, Neil Gaiman's awardwinning masterpiece The Sandman set the standard for mature, lyrical fantasy in the modern comics era. Illustrated by an exemplary selection of the medium's most gifted artists, the series is a rich blend of modern and ancient mythology in which contemporary fiction, historical drama, and legend are seamlessly interwoven.


The Sandman: The Deluxe Edition Book Two collects issues #17-31 of the original run of The Sandman, which includes the World Fantasy Award-winning "A Midsummer Night's Dream" and tales from the Angoulême International Comics Festival best script award-winning graphic novel "Season of Mists." This volume also features the Sandman Special #1 and short stories from Vertigo: Winter's Edge #1-3 that further chronicle the enchanting world of Morpheus, the Lord of Dreams, and his kin, the Endless.

About the Author
---
Neil Gaiman is the New York Times bestselling author of the Newbery Medal-winning The Graveyard Book and Coraline, the basis for the hit movie. His other books include Anansi Boys, Neverwhere, American Gods, and Stardust, (winner of the American Library Association's Alex Award as one of 2000's top novels for young adults) as well as the short story collections M Is for Magic and Smoke and Mirrors. He is also the author of The Wolves in the Walls and The Day I Traded My Dad for Two Goldfish, both written for children. Among his many awards are the Eisner, the Hugo, the Nebula, the World Fantasy, and the Bram Stoker. Originally from England, he now lives in the United States.

Kelley Jones is a comic book artist best known for his work on Batman with Doug Moench and The Sandman with Neil Gaiman. A critically acclaimed artist throughout his career, Jones' recent work includes Swamp Thing: The Dead Don't Sleep with Swamp Thing creator Len Wein.

Mike Dringenberg was born in Laon, France, and currently resides in Bountiful, Utah. His early comics work appeared in Eclipse's Enchanter, Alien Worlds, Total Eclipse, and Vortex's Kelvin Mace. When not drawing or painting, Mike swears he can be found "wandering through the desert kicking coyotes" and "watching the sun rise in the west."