Being Realistic Isn't Realistic: Collected essays on disability, identity, inclusion and innovation (Paperback)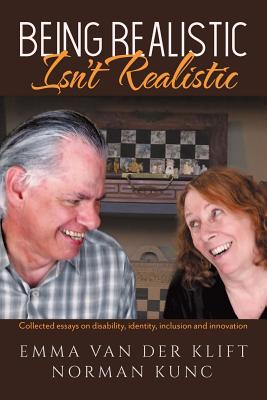 $31.75

Usually Ships in 1-5 Days
(This book cannot be returned.)
Description
---
In this engaging, humorous and provocative collection of essays, Emma Van der Klift and Norman Kunc gently prod us to rethink many taken for granted and unquestioned assumptions about the nature of disability. They begin with a challenge and an assertion; people have the right to be disabled and should be under no obligation to minimize or hide their disabilities. Disability, they contend, is not a tragic medical condition, but is an inherent part of the diversity of the human condition - an identity to be embraced with pride.
They go on to explore the sometimes overlooked complexities of inclusion - both at school and in the community. In one essay, they ask us to rethink the relationship between ability and opportunity and challenge the presumption that people need to acquire abilities before they are afforded the opportunity to participate in regular schools and the broader community. In another, they ask us to consider how we might ensure that friendship between non-disabled and disabled people doesn't become contaminated by benevolence, underestimation and paternalism.
Throughout this book, they playfully draw unexpected connections between disability, innovation and a number of seemingly unrelated topics - like belly dance, chess and magic.
Although Norman Kunc and Emma Van der Klift are internationally known speakers, authors and disability rights advocates, they prefer to think of themselves as modern day storytellers, continuing the long held tradition of using humour and narrative to initiate self-reflection and social change.
Born with cerebral palsy, Norman attended a segregated school for children with physical disabilities; then, at the age 13, argued his way into a regular school and went on to complete a Master of Science degree in Family Therapy. Recently diagnosed as Autistic, Emma has embraced the diagnosis with a sense of relief, recognition and confirmation. She is certified in both mediation and negotiation and holds a Master's degree in Conflict Analysis and Management. When Norm and Emma aren't working, they enjoy cycling, chess, good food and trying to figure out how magicians use misdirection to fool us.