The Jodorowsky Library (Book One): Anibal 5 • Megalex • Selected Short Stories (Hardcover)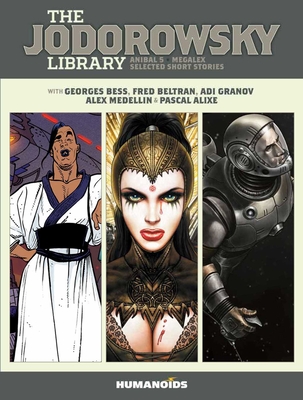 $39.99

Usually Ships in 1-5 Days
Description
---
The Jodorowsky Library: a collection of deluxe matching volumes cumulating the iconic works of the legendary Alejandro Jodorowsky.

Included in this volume are the bawdy secret agent tale ANIBAL 5 (illustrated by Georges Bess) and the sci-fi epic MEGALEX (illustrated by Fred Beltran), along with a selection of stories from SCREAMING PLANET with artwork by Adi Granov, Axel Medellin, and other comics art legends.

Includes previously unseen bonus materials and extras, including rare pages from Jodorowsky's never-reprinted comics debut in 1966!
About the Author
---
Fred Beltran is active in several creative fields. He works as a comics artist, but also as a prolific musician. Beltran saw his first comic album published in 1988. In the early 1990s, he contributed to the collective album "Eros Gone Wild" at Humanoids and pursued a subsequent career in architecture, illustration and theatre stage design. Since 1994, Beltran has mostly used the computer on all his comics work, including the coloring of the series "The Technopriests." Also in 1994, the first album of his new band Les Snails is released. Beltran cooperated with the Japanese publishing house Kodansha between 1995 and 1997, producing the series "Nina."

Georges Bess is a French artist, best known for his collaboration with Alexandro Jodorowsky. He moved to Sweden in the early 1970s and it is there that he did his first artistic jobs under his own name or under the pseudonyms Tideli and Nisseman. He cooperated with the Swedish "Mad" magazine, and from 1977 to 1987, drew stories with "The Phantom." In the early 1980s, Bess accidentally traveled to Tibet and became very impressed with the country. It was shortly thereafter that he met and began collaborating with Jodorowsky, in what would become a long and successful collaborative partnership.

Adi Granov is a Bosnian - born comic book artist and conceptual designer. He was named in August 2004 as one of Marvel Comics' "Young Guns", and from there built a remarkable career in the industry working with such creators as Warren Ellis (Iron Man) and in doing film design work (Iron Man, Black Panther, Avengers: Endgame).

Axel Medellin is a comics and conceptual artist whose work has been seen in Heavy Metal, Metal Hurlant, Zenoscope titles, and Elephantmen.