Posthumous Memoirs of Brás Cubas: A Novel (Hardcover)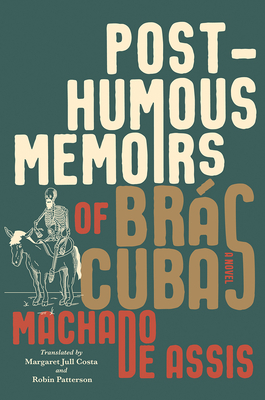 $27.95

Usually Ships in 1-5 Days
Staff Reviews
---
This book, originally published in Brazil in 1881, has been one of my most enjoyable reads this year. With two new translations to chose from, this shockingly modern, inventive, and often hilarious novel is officially rediscovered in England.
— Chris
Description
---
New York Times, "Times Critics Top Books of 2020":
"The most modern, most startlingly avant-garde novel I read this year was originally published in 1881. Jull Costa and Patterson offer a peerless translation of this comic masterpiece." —Parul Sehgal,
New York Times
Machado de Assis's classic novel, the precursor of Latin American fiction, is finally rendered as a stunningly relevant work for twenty-first-century readers.
"I passed away at two o'clock in the afternoon on a Friday in August in 1869, in my beautiful mansion in the Catumbi district of the city." So begins Machado de Assis's
Posthumous Memoirs of Brás Cubas
, told eerily from beyond the grave. First appearing in Brazil in 1881, this remarkably experimental novel was never intended by its author to be a popular "run-of-the-mill-novel."
Joaquim Maria Machado de Assis, the son of a mulatto father and a washerwoman, and the grandson of freed slaves, was not, originally, expecting literary encomiums in his lifetime, especially not for Brás Cubas. And yet, his prodigious output of novels, plays, and stories would influence generations of South American writers. Now, with this coruscating new translation of one of his most compelling novels, esteemed translators Margaret Jull Costa and Robin Patterson reveal a pivotal moment in Machado's career, as his flights of the surreal became his literary hallmark.
In eloquent, contemporary prose, Costa and Patterson breathe new life into the dynamic character of Brás Cubas and reveal the vivid, tempestuous Rio de Janeiro of his time. The recently deceased Cubas narrates his life story, admitting glibly: "I am not so much a writer who has died, as a dead man who has decided to write." His life, therefore, is relayed out of order, beginning with his funeral, and then stepping back to offer "a brief genealogical sketch." An enigmatic, amusing and frequently insufferable anti-hero, Cubas describes his childhood spent tormenting household slaves and meddling cheekily in adult affairs, through his bachelor years navigating his own torrid affairs, up to his final days obsessing over nonsensical poultices.
Fantastical in structure and enthralling in tone, Posthumous Memoirs of Brás Cubas is a deeply human story of a somber life—how much of it reflects the author's own personality we will never know. At once a work of uproarious mockery and great sympathy, this is Machado de Assis at his most pathbreaking: an incisive observer of the human condition, and a founding father of modernist fiction.
About the Author
---
Machado De Assis (1839–1908) was born in Rio de Janeiro, Brazil. He is the groundbreaking author of such works as Quincas Borba, Dom Casmurro, as well as The Collected Stories of Machado de Assis.

Margaret Jull Costa, who has translated José Saramago and Machado de Assis, lives in England.

Award-winning translator Robin Patterson lives in England.
Praise For…
---
The most modern, most startlingly avant-garde novel I read this year was originally published in 1881. Jull Costa and Patterson offer a peerless translation of this comic masterpiece, narrated from beyond the grave by a feckless, pretentious, impossibly winning aristocrat. The Brazilian novelist Machado was besotted with the license afforded by fiction and the social critique permitted only by comedy. Read this witty, wildly inventive work and how conservative, how painfully corseted so much modern fiction will suddenly seem.
— Parul Sehgal, New York Times, "Times Critics' Top Books of 2020"

One of [De Assis'] most celebrated works, The Posthumous Memoirs of Brás Cubas, is being rejuvenated this summer with a new translation by Margaret Jull Costa and Robin Patterson. When first published in 1881, the book breathed new life into Brazilian literature. The new translation feels even fresher.... When it comes to translating Portuguese literature, one cannot find a more qualified translator than Margaret Jull Costa.... The most a reader can ask for is that the translation brings out the irony, wit, and playfulness of Machado de Assis's prose. In that respect, this new translation by the duo is sure to impress.

— Pradeep Niroula - Chicago Review of Books

Beneath all this outward respectability, his prose was radically ingenious. Ever since The Posthumous Memoirs of Brás Cubas, Machado's fifth novel, appeared in 1881 it has astonished readers with its lordly ironies and scorn for convention. The book's invigorating style, as much as its backdrop of racial and social injustice, makes it ideal reading for this morbid, insurgent summer.... The novel floats free of the ambient oppression on currents of mischief and urbanity. Sprinkled with epigrams, dreams, gags and asides, the story teases, dances and delights.... [Machado']s worldly, bruised voice reaches out to touch readers today with its rueful comedy and wry sensuality.

— The Economist

A great ironist, a tragic comedian. . . . In his books, in their most comic moments, he underlines the suffering by making us laugh.
— Philip Roth

The greatest writer ever produced in Latin America.
— Susan Sontag

The supreme black literary artist to date.
— Harold Bloom