The Art of Politics & Campaigning: How Sun Tzu can advance your political aspirations (Paperback)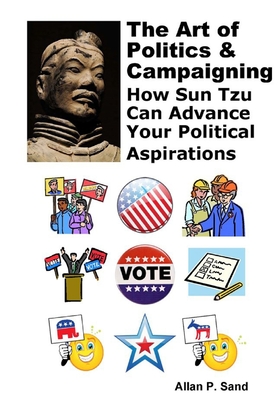 $11.99

Usually Ships in 1-5 Days
(This book cannot be returned.)
Description
---
This is how Sun Tzu would advise you on your political campaigning Apply the philosophy of war to your campaign programs

2,500 years ago, a Chinese general, Sun Tzu, wrote a treatise titled: The Art of War.

It summarized his lifetime experiences of what was important about warfare and battlefield management.

The first words of his famous book are: The art of war is of vital importance.

This is how millions of students began their education into the philosophy of organized conflict. His words (translated by Lionel Giles) are presented here - and how they apply to you.

This book provides the guidelines to effective preparation, planning, thinking, and execution of your political career. Inside are the secrets of effective campaign success. You will gain new insights into how to:

- Win against better-funded opponents

- Trap and misdirect opponents

- Design useful strategies

- Devise effective tactics

- Attack efficiently

- Defend aggressively

Make sure you have a pencil and notepad as you read through this book. There will be much re-evaluation of bedrock doctrine. Many current beliefs are actually ill-considered dogma. You need to document the many tactical ideas and concepts that will lead to future successes.