Jules Verne (Leather-bound Classics) (Leather / fine binding)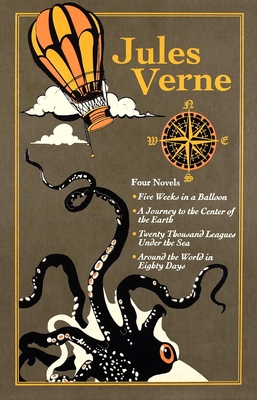 $24.99

Usually Ships in 1-5 Days
Description
---
Get cozy with the classics! Jules Verne collects some of the author's best-known works in a beautiful keepsake volume.2013 IBPA Benjamin Franklin Award Silver Finalist in Gift Books
Legendary science fiction and adventure author Jules Verne is remembered for his fascinating stories of travel and excitement. With countless adaptations available, the titles of his works are familiar. But no joy can compare to reading the originals...and reading them in a deluxe classic edition is even better! This elegant book features four classic Verne novels:
The African exploration of Five Weeks in a Balloon.
The story of Captain Nemo and his submarine in Twenty Thousand Leagues Under the Sea.
Around the World in Eighty Days, the famous story of an incredible expedition.
And the classic Journey to the Center of the Earth, which takes readers into our world's geological past.
With a genuine leather cover, printed endpapers, and a ribbon bookmark, as well as an introduction by an expert on Verne's life and writing, this is an excellent introduction to the work of this well-loved author. Expand your home library—and your imagination—with
Jules Verne
!
About the Author
---
French writer Jules Verne (February 8, 1828 - March 24, 1905) pioneered the science fiction literary genre. He published many plays, essays, short stories, and poems during his lifetime, but is best known for Twenty Thousand Leagues Under the Sea, Around the World in 80 Days, and A Journey to the Center of the Earth. Today, he is one of the most translated authors in the world.

Ernest Hilbert received his doctorate in English Language and Literature from Oxford University in 2000. He has served as editor for the Oxford Quarterly, Random House's magazine Bold Type, and the Contemporary Poetry Review. His writing has appeared in American Scholar, The New Republic, The New Criterion, London Magazine, Yale Review, and many other publications. He is an antiquarian bookseller with the firm Bauman Rare Books, where he has had the pleasure of placing many Charles Dickens first editions of into private and public collections.