Moby Dick (Hardcover)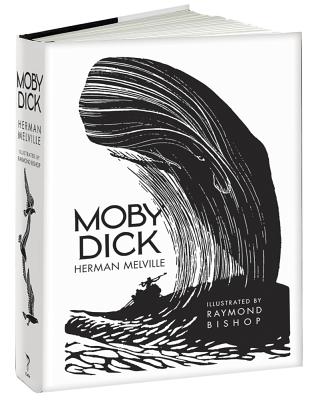 $35.00
Email or call for price
Description
---
Acclaimed by D. H. Lawrence as "the greatest book of the sea ever written," Moby Dick looms large in America's literary consciousness -- and the style and philosophical content of Melville's 1851 epic was generations ahead of its time. Today the chronicle of a vengeful captain's obsessive, self-destructive search for a white whale ranks among the great American novels, and this volume does full justice to its preeminence. Twenty-five glorious woodcut illustrations from the 1930 Albert and Charles Boni version complement the newly reset edition, which also features an abundance of decorative elements.
Much of Moby Dick was inspired by the 1821 work Narratives of the Wreck of the Whale-Ship Essex, which in turn inspired the 2015 movie In the Heart of the Sea, directed by Ron Howard and starring Chris Hemsworth.
About the Author
---
Herman Melville (1819-1891) found early success with stories inspired by his adventures in the South Seas. His fortunes declined with the 1851 publication of Moby Dick, now recognized as a masterpiece but scorned by Melville's contemporaries. The author was obliged to work as a New York City customs inspector and died in obscurity, three decades before the critical reassessment of his work.The life of Raymond Bishop, creator of this volume's elegant and affecting woodcut illustrations, remains a mystery.