African Safari Field Guide (Paperback)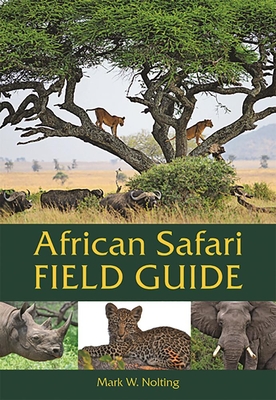 $22.95
Email or call for price
Description
---
The African Safari Journal and Field Guide is the perfect book to take on safari because it is a wildlife guide, trip organizer, phrase book, safari diary, map directory and wildlife checklist, all in one And because many on safari have strict baggage limits, this SEVEN-BOOKS-IN-ONE journal becomes even more valuable because it features all the information a traveler to Africa is going to need. It puts key safari information at the reader's fingertips and allows them to record unforgettable memories of their African adventure. The guide includes the following valuable features that help to make the reader an instant authority while on safari: * Over 500 COLOR illustrations and detailed descriptions of mammals, reptiles, birds, insects and trees for easy identification.
* Illustrations of Africa's vegetation zones
* The most comprehensive checklists of mammals and birds for recording sightings in reserves
* Over 60 COLOR maps that detail regions, countries and major wildlife reserves
* Swahili, Tswana, Shona, Zulu and French words, phrases and mammal names (with phonetics)
* Constellation maps of the Southern Hemisphere -- and a stargazers guide
* Safari tips
* Photography on safari
* Glossary of safari terms
* Packing checklist
* Contact information for U.S. and Canadian Embassies and British High Commissions in Africa
* World Heritage sites
* Resource directory
*Suggested reading list
* 30 journal pages to record their personal safari experiences The African Safari Journal and Field Guide can be personalized with the following: * Journal author information
* Medical information
* Packing checklist and luggage inventory
* Travel and health insurance
* Journal log and daily entries
* Mammal and bird check lists
* Sections to record flight and safari itineraries.