Voices in the Evening (Paperback)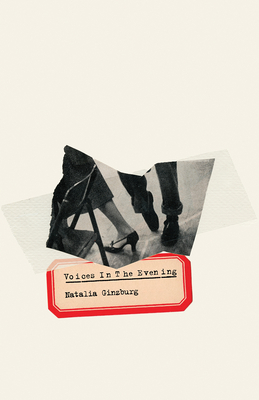 $14.95

Usually Ships in 1-5 Days
Staff Reviews
---
One of the greatest practitioners of the post war novella.
— Brad
Description
---
From one of Italy's greatest writers, a stunning novel "filled with shimmering, risky, darting observation" (Colm Tóibín)
After WWII, a small Italian town struggles to emerge from under the thumb of Fascism. With wit, tenderness, and irony, Elsa, the novel's narrator, weaves a rich tapestry of provincial Italian life: two generations of neighbors and relatives, their gossip and shattered dreams, their heartbreaks and struggles to find happiness. Elsa wants to imagine a future for herself, free from the expectations and burdens of her town's history, but the weight of the past will always prove unbearable, insistently posing the question: "Why has everything been ruined?"
About the Author
---
Natalia Ginzburg (1916–1991), "who authored twelve books and two plays; who, because of anti-Semitic laws, sometimes couldn't publish under her own name; who raised five children and lost her husband to Fascist torture; who was elected to the Italian parliament as an independent in her late sixties—this woman does not take her present conditions as a given. She asks us to fight back against them, to be brave and resolute. She instructs us to ask for better, for ourselves and for our children" (Belle Boggs, The New Yorker).

D. M. Low (1890-1972) was a British translator of Italian literature and biographer of Edward Gibbon.

Colm Toibin is currently the Irene and Sidney B. Silverman professor of the humanities at Columbia University and succeeded Martin Amis as professor of creative writing at the University of Manchester.
Praise For…
---
The concepts, emotions and characters in her books are complex and unforgettable.
— Laurie Anderson - New York Times

Sharp and lively.
— Lydia Davis

I'm utterly entranced by Ginzburg's style – her mysterious directness, her salutary ability to lay things bare that never feels contrived or cold, only necessary, honest, clear.
— Maggie Nelson

Ginzburg gives us a new template for the female voice and an idea of what it might sound like.
— Rachel Cusk

Her sentences have great precision and clarity, and I learn a lot when I read her.
— Zadie Smith

As deceptively diffuse as it is meticulously observed, Ginzburg's novel is a gem.
— Kirkus (starred)

Ginzburg's efficient, lyrical prose and ear for dialogue make for an expansive and beautifully rendered study of individuals and community in wartime. With this latest resurrected masterpiece, the late author's work continues to prove irresistible and relevant.
— Publishers Weekly (starred)

Though the political context is important in understanding the nuances of her work, Ginzburg's talent, and how fresh these stories still feel, is in her note-perfect characterizations. The many political frictions offer a context, but it's these imaginary/real people who are front and center.
— Mandana Chaffa - Chicago Review of Books

There is perhaps no greater archivist of the family lexicon than the Italian novelist Natalia Ginzburg.
— Jess Bergman - Jewish Currents

Ginzburg is a miniaturist. Her themes are buried in gestures, fragments, absences—not in what is said, but in what is not said....When there are glimpses of happiness in Ginzburg's work, they take root in unlikely places, outside the narrow confines of convention. Voices in the Evening, set in the period immediately after the war, is a portrait of the children of a factory boss as told by Elsa, the factory accountant's daughter, a typically opaque Ginzburgian narrator. Elsa is having a covert love affair with Tommasino, the youngest of the boss's children, and the pair meet every Wednesday in a modest rented room. Ginzburg sketches the parameters of their relationship with typical precision, through an accretion of specifics that accumulate incredible force, humor, and beauty.

— Negar Azimi - Bookforum