A Burning: A novel (Paperback)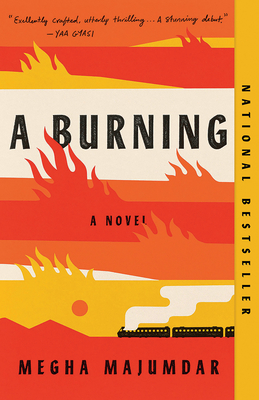 $16.00

Usually Ships in 1-5 Days
Staff Reviews
---
Themes of class, justice, and gender in a tighly woven, gut wrenching story set in modern India. Your heart will ache for the people you'll meet and Megha's skillful pacing moves the story forward with the intensity of a thriller. This is a powerful novel that brings us closer as a global community.
— Grace
June 2020 Indie Next List
---
"Majumdar's suspenseful narrative holds a mirror up to society at large, reflecting the lies people tell themselves to rationalize sacrificing morality for personal gain. Unintended consequences from an impulsive social media post explode against a backdrop of deep economic insecurities and centuries-old prejudices. A searing debut, this novel is timely and timeless. It packs a punch way above its weight. Brilliant."
— Lisa Johnson, Penguin Bookshop, Sewickley, PA
Description
---
A TODAY SHOW #ReadWithJenna BOOK CLUB PICK!
A New York Times Notable Book

A National Book Award Longlist honoree and "gripping thriller with compassionate social commentary" (USA Today)

Jivan is a Muslim girl from the slums, determined to move up in life, who is accused of executing a terrorist attack on a train because of a careless comment on Facebook. PT Sir is an opportunistic gym teacher who hitches his aspirations to a right-wing political party and finds that his own ascent becomes linked to Jivan's fall. Lovely—an irresistible outcast whose exuberant voice and dreams of glory fill the novel with warmth and hope and humor—has the alibi that can set Jivan free, but it will cost her everything she holds dear.

Taut, symphonic, propulsive, and riveting from its opening lines, A Burning is an electrifying debut novel about three unforgettable characters who seek to rise—to the middle class, to political power, to fame in the movies—and find their lives entangled in the wake of a catastrophe in contemporary India.
About the Author
---
Megha Majumdar was born and raised in Kolkata, India. She moved to the United States to attend college at Harvard University, followed by graduate school in social anthropology at Johns Hopkins University. She works as an editor at Catapult and lives in New York City. A Burning is her first book.
Praise For…
---
ONE OF THE GUARDIAN'S BEST BOOKS OF THE YEAR • LONGLISTED FOR THE NATIONAL BOOK AWARD • SHORTLISTED FOR THE NATIONAL BOOK CRITICS CIRCLE JOHN LEONARD AWARD FOR BEST FIRST BOOK • AMERICAN LIBRARY ASSOCIATION ANDREW CARNEGIE MEDAL FINALIST

"Riveting. . . . Fate has rarely been so many-faced, so muscular, so mercurial, or so mesmerizing as it is in A Burning."
—The New York Times Book Review (cover)

"Powerful... propulsive...This is a book to relish for its details, for the caress of the writer's gaze against the world... The interplay of choice and circumstance has always been the playing field of great fiction, and on this terrain, a powerful new writer stakes her claim."
—Parul Sehgal, The New York Times

"Majumdar demonstrates an uncanny ability to capture the vast scope of a tumultuous society by attending to the hopes and fears of people living on the margins. The effect is transporting."
—Ron Charles, The Washington Post

"Immersive. . . . Masterly. . . . the elements of a thriller are transmuted into prismatic portraiture. . . . Her spare plot moves with arrowlike determination."
—James Wood, The New Yorker

"A Burning lays bare the urgent need for a justice system that upholds its ideals, elegantly excoriating a world where corruption and inequity rot the lives of those wrongly viewed as disposable. In blistering, beautiful prose, Majumdar illuminates the dark truths of the modern world, while also celebrating the burning deep in the hearts of strivers everywhere." 
—Esquire

"In her captivating debut novel A Burning, Megha Majumdar presents a powerful corrective to the political narratives that have dominated in contemporary India."
—Time

"A story you'll want to read in just one sitting. . . . A thrilling and complex tale." 
—CNN

"A scorching and intimate look at those who find themselves bearing the full brunt of an enormous, diverse society's prejudices and passions. . . . A Burning is a taut, propulsive and devastating debut novel."
—San Francisco Chronicle

"Combines fast-paced plotting with the kind of atmospheric detail one might find in the work of Jhumpa Lahiri or Daniyal Mueenuddin. . . . A highly compelling read"
—Vogue

"Precise, human and powerful. You can feel these big intersecting currents of history, progress and technology pulling these three characters in, crushing one of them and propelling the others to great heights. It's a really tight read. I read it in one sitting." 
—The Guardian

"One of the most invigorating debuts in recent memory. . . . A Burning is like a sparking power line, releasing jolts of bright light, humor and compassion."
—Zyzzyva

"[A] rich debut novel. . . . A Burning forces us to see the inequities in this world, and the way desire for freedom is so often thwarted, especially for those less fortunate, by those around them."
—Ploughshares

"[A Burning] is fast-paced enough to feel like a literary thriller, yet also turns a wise eye toward the complexities of life in contemporary India. . . . A novel for our times." 
—Chicago Review of Books

"A haunting portrait of a country and city steeped in nationalism, A Burning splits open society and presents it, three ways, for our consideration."
—The Rumpus

"Powerful . . . a gripping thriller with compassionate social commentary. . . . It's hard not to feel intense heartache while reading A Burning. Majumdar's powerful debut is carefully crafted for maximum impact, carving out the most urgent parts of its characters for the whole world to see. This novel rightfully commands attention."
—USA Today

"Polyphonic . . . Lovely is a particular gem. . . . brilliant" 
—Kirkus Reviews