Battle Born: A Novel (Patrick McLanahan Series) (Mass Market)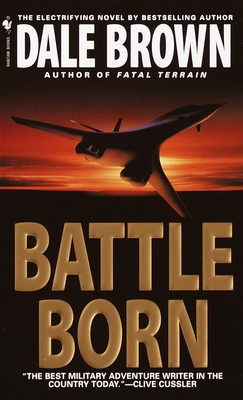 $8.99
Email or call for price
Other Books in Series
Description
---
Patrick McLanahan is back — and this time he faces his most difficult challenge. He must pull together a team of aggressive, maverick young pilots to face a world on the brink of massive nuclear conflict.

It begins with a joint U.S.-Japanese-South Korean mock bombing raid. But the South Korean fighter pilots don't stick to the script. Instead, they race across the border into North Korea to support a massive people's revolt against the Communists.

Virtually overnight, the fledgling United Korea is the world's newest nuclear power, igniting a fuse that threatens to blow Asia apart and trigger World War III. Only McLanahan has the top-secret aviation technology and the brash young heroes to stop the coming inferno — if he can get them to stop fighting each other and start fighting as a team before the world is reduced to cinders!
About the Author
---
Dale Brown is a former captain in the U.S. Air Force. He lives in Nevada, where he can often be found high in the sky, piloting his own plane. He is the author of eleven previous novels.
Praise For…
---
"A first-class thriller."
-- Abilene Reporter-News

"Brown serves up enough ... lethal hardware and over-the-top action to satisfy the most discerning techno-thriller fan."
-- USA Today

"Brown's poetry lies in his exhaustive tribute to the machinery of war, and fans will thrill to it once again in this solid addition to the series."
-- Publishers Weekly


Also by Dale Brown:

The Tin Man