Undisputed Truth (Paperback)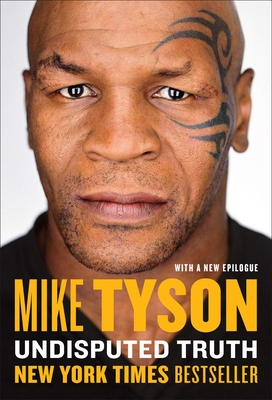 $22.00

Usually Ships in 1-5 Days
Description
---
Be sure to check out IRON AMBITION: My Life with Cus D'Amato by Mike Tyson

"Raw, powerful and disturbing—a head-spinning take on Mr. Tyson's life."—Wall Street Journal
 
Philosopher, Broadway headliner, fighter, felon—Mike Tyson has defied stereotypes, expectations, and a lot of conventional wisdom during his three decades in the public eye. Bullied as a boy in the toughest, poorest neighborhood in Brooklyn, Tyson grew up to become one of the most ferocious boxers of all time—and the youngest heavyweight champion ever. But his brilliance in the ring was often compromised by reckless behavior. Yet—even after hitting rock bottom—the man who once admitted being addicted "to everything" fought his way back, achieving triumphant success as an actor and newfound happiness and stability as a father and husband. Brutal, honest, raw, and often hilarious, Undisputed Truth is the singular journey of an inspiring American original.
About the Author
---
Mike Tyson
lives in Las Vegas with his wife, Kiki, and their children.

Larry "Ratso" Sloman lives in New York City.
Praise For…
---
"A masterpiece … grimly tragic on one page, laugh-out-loud funny on the next, and unrelentingly vulgar and foul-mouthed. Reading Tyson's memoir is like watching a Charles Dickens street urchin grow up to join Hunter S. Thompson on a narcotics-filled road trip — with the ensuing antics captured on video by assorted paparazzi." –Hector Tobar,
Los Angeles Times
"
Undisputed Truth
is raw, powerful and disturbing—a head-spinning take on Mr. Tyson's life…Unlike other sports memoirists, he doesn't pull punches, offering up slashing comments on people who were once close to him. His narrative reminds us of just how far he has come from his rough beginnings, and, in a way, how close he remains to them. He had a punch like a thunderbolt from Zeus, but there have been a lot of big bangers in boxing; Mike Tyson's came with a pulsating story line like few others." --Gordon Marino,
Wall Street Journal
"Parts of [
Undisputed Truth
] read like a real-life Tarantino movie. Parts read like a Tom Wolfe-ian tour of wildly divergent worlds: from the slums of Brooklyn to the high life in Las Vegas to the isolation of prison…. Mr. Tyson's idiosyncratic voice comes through clearly on the page here — not just his mix of profane street talk and 12-step recovery language, cinematic descriptions of individual fights and philosophical musings, but also his biting humor and fondness for literary and historical references that run the gamut from Alexandre Dumas to Tolstoy to Lenin to Tennessee Williams…. A genuine effort by a troubled soul to gain some understanding of the long, strange journey that has been his life." –Michiko Kakutani,
The New York Times
"A hefty autobiography that might be the most soul baring book of its genre ever written … a fascinating look into a life that up until now had already been well chronicled … It's raw and profane … but it is also quite funny."—
Associated Press
"
Undisputed Truth
, which is, without a doubt, one of the grittiest and most harrowing memoirs I've ever read." –Flavorwire
"Most readers are familiar with [Tyson's] tumultuous life and career—the bizarre behavior in the ring, the sordid behavior out of it—but what's most surprising about the book is the introspection and self-awareness displayed … it's raw and profane but also smart and witty … A fascinating and frequently surprising autobiography."—
Booklist
"
Undisputed Truth
, is the American dream writ large in raw detail: think
Citizen Kane
scripted by the writing team of
The Wire….
[it] has a great American novel feel to it… Tyson could easily be a Tom Wolfe or Norman Mailer creation." –Austin Collings,
New Statesman
"[A] lively mixture of a memoir." –Joyce Carol Oates,
New York Review of Books
"Tyson was ever practised at delivering the early killer blow; and so it is with this gripping and indecently enthralling autobiography….Tyson always had a way with words – although much of the credit for this book must go to his ghostwriter Larry "Ratso" Sloman, who not only makes Tyson's life read like an Elmore Leonard thriller, but gifts him with considerable self-awareness and a memorably pithy turn of phrase….recounted in gripping, punch-by-punch detail in prose pungent with the reek of blood, sweat and petroleum jelly." –Mick Brown,
The Telegraph
(UK)
"Thrilling…addictive…Sloman brings Tyson's voice springing off the page with its often hilarious combo of street and shrink, pimp profanity and the 'prisony pseudo-intellectual modern mack rap' of the autodidact." –Geoff Dyer,
The Guardian
(UK)