Forest Mage: Book Two of The Soldier Son Trilogy (Mass Market)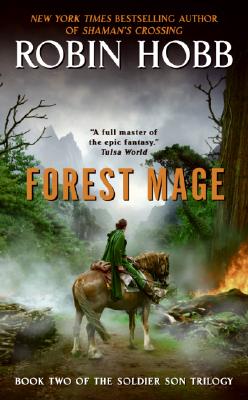 $8.99

Usually Ships in 1-5 Days
Other Books in Series
This is book number 2 in the Soldier Son Trilogy series.
Description
---
Plague has ravaged the prestigious King's Cavalla of Gernia, decimating the ranks of both cadets and instructors. Yet Nevare Burvelle has made an astonishingly robust recovery, defeating his sworn nemesis while in the throes of the disease and freeing himself—he believes—from the Speck magic that infected him. And now he is journeying home to Widevale, anticipating a tender reunion with his beautiful fiancée, Carsina, and a bright future as a commissioned officer.
But there is no haven in the bosom of his kinfolk, for his nights are haunted by grim visions of treachery—and his days are tormented by a strange side-effect of the plague that shames his family and repulses the lady of his heart. And as the still-potent magic in his blood roars to life, Nevare realizes a terrible truth: that the enemy who seeks to destroy everything he loves dwells perhaps not without but within him.
About the Author
---
Robin Hobb was born in California but grew up in Alaska. It was there that she learned to love the forest and the wilderness. She has lived most of her life in the Pacific Northwest and currently resides in Tacoma, Washington. She is the author of five critically acclaimed fantasy series: The Rain Wilds Chronicles (Dragon Keeper, Dragon Haven, City of Dragons, Blood of Dragons), The Soldier Son Trilogy, The Tawny Man Trilogy, The Liveship Traders Trilogy, and The Farseer Trilogy. Under the name Megan Lindholm she is the author of The Wizard of the Pigeons, Windsingers, and Cloven Hooves. The Inheritance, a collection of stories, was published under both names. Her short fiction has won the Asimov's Readers' Award and she has been a finalist for both the Nebula and Hugo awards.
Praise For…
---
"Gripping." — London Times
"At once harrowing, unexpected, and morally complex . . . I'm eager to see what happens next." — Locus
"Refreshing. . . . There's a truthfulness to her creation that is lacking in some of the more slapdash fantasies." — Locus